September 2019 Grant Recipients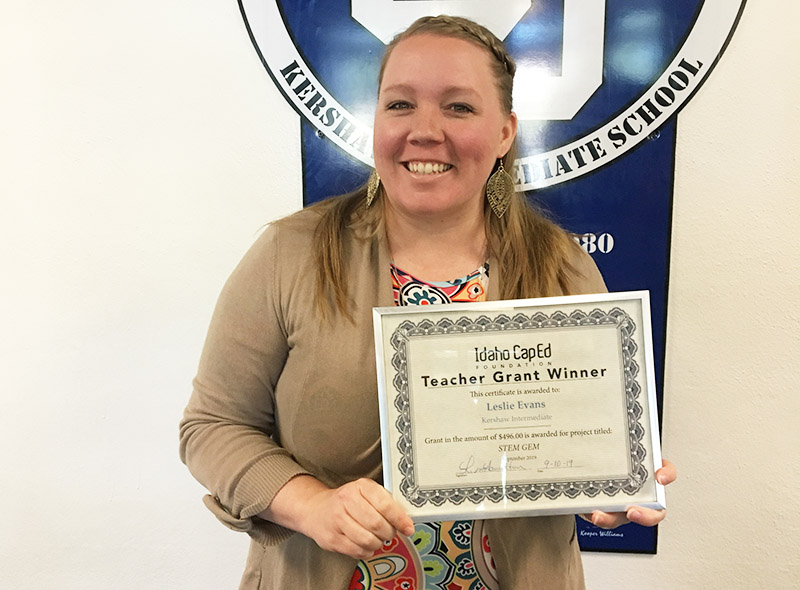 STEM Gems
Leslie Evans - Kershaw Intermediate, Sugar City
$496.00
I am the STEM Teacher for 4th-6th grade at our school, I will teach more than 390 students every single week. I also teach the Gifted and Talented students from 4th to 8th grade, which is more than 130 students in my school district. With this grant, I will add more hands on manipulative's for these students that will last for years to come! They have shown interest in learning chess so I will purchase a Chess Club set which will allow me to teach them determination, persistence, tenacity, resoluteness and mental coordination, endurance, and strength. I will also purchase 3 sets of Zoomtool Construction sets. These sets will allow students to create, manipulate, and see 3D shapes. Both of these items will also be used during our Family STEM night which we have every year. The use of these amazing items are limitless and will reach beyond my classroom for years!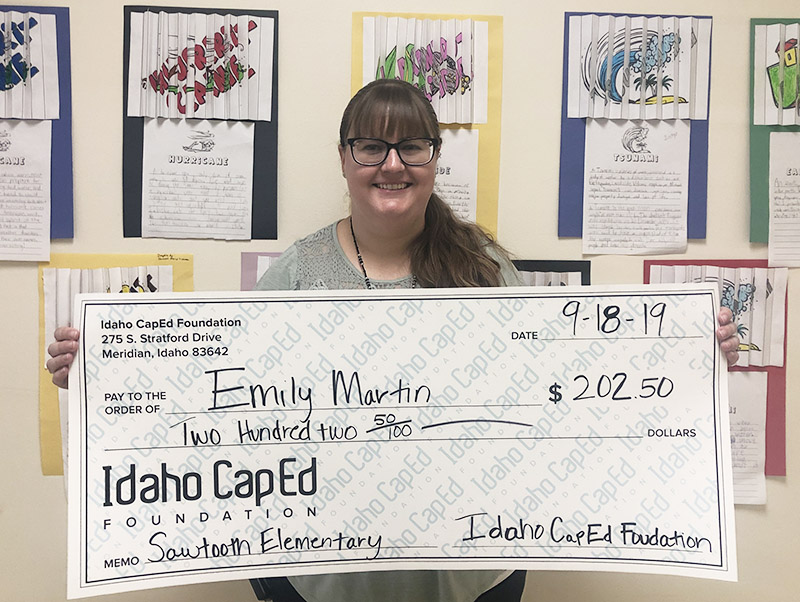 Idaho History Books
Emily Martin - Sawtooth Elementary, Twin Falls
$202.50
I will purchase a class set of the book Naya Nuki for my class. This book tells the story of a Shoshoni Native American girl. It fits very well with our Idaho History unit and really helps the kids to have a greater understanding of Native American life. The kids are more engaged when learning through the narrative of a young girl who is about the same age as them. The book also details lessons of perseverance and bravery. While reading the book the kids will complete worksheets and journal writing activities to enhance their understanding. They will complete vocabulary worksheets with words that fit with the Idaho History standards. After completing the book, the kids will complete an end of book project.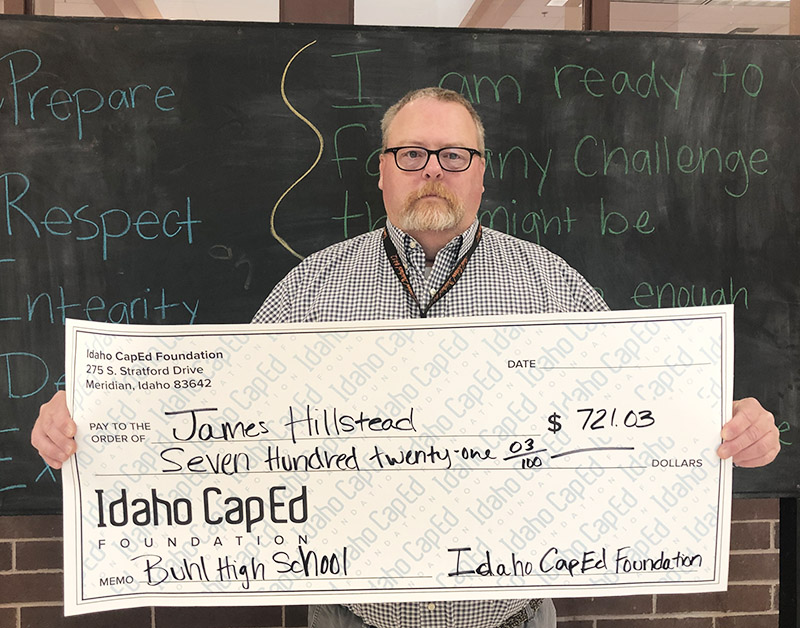 The House on Mango Street
James Hillstead - Buhl High School, Buhl
$721.03
Migrant and ESL students face challenges that other students do not encounter. For these students, Migrant and ESL, they are coming into a new culture, new country, and new educational system. Not only do they have to figure out the curriculum that is being presented to them throughout the day in five to eight classes, they must also learn to speak the language and be prepared to learn. In order to make the transition less stressful, I plan to have supplies for students and a learning experience that will help them to transition into their new setting.
Sandra Cisneros wrote "The House on Mango Street." The book tells the story of a young girl and her family. It Chronicles their many moves, the struggles the children had, and how they handle experiences they had. The book is made up of chapters that can be read as stand alone stories, or as a complete novel. I believe that the book will inspire and help my students. They will be able to see that others have had struggles and shared culturally relevant experiences. Students will learn grammar, literary terms, and cultural notes. As part of the learning process, students will keep a journal about what we are reading. Through writing they will come to be more comfortable expressing themselves. They will be able to put into written words what they are thinking and understand.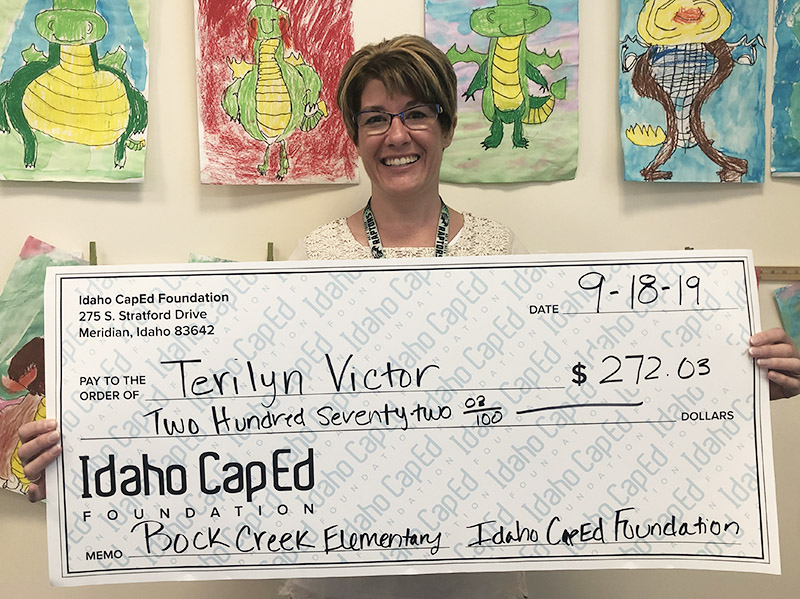 Keep Calm and Learn On
Terilyn Victor - Rock Creek Elementary, Twin Falls
$272.03
I am wanting to provide a safe area within the classroom where students can go to calm down and prepare to reengage in their learning. Some students come to school with situations they are dealing with outside of school along with events that occur during the school day. If a student is worried or upset, they are not focused on their learning. The safe area should be warm and inviting, a place where students will want to go when it is necessary. It should have a variety of sensory type materials that can help them calm down in order to return to their learning. The purchase of a kid tent would allow students to have privacy when they are upset, rather than have them leave the classroom should it be needed. A variety of sensory items in the safe area will allow for student choice to help individual students refocus. Meeting emotional needs will impact the success of each student in the classroom and allow them to maximize their learning.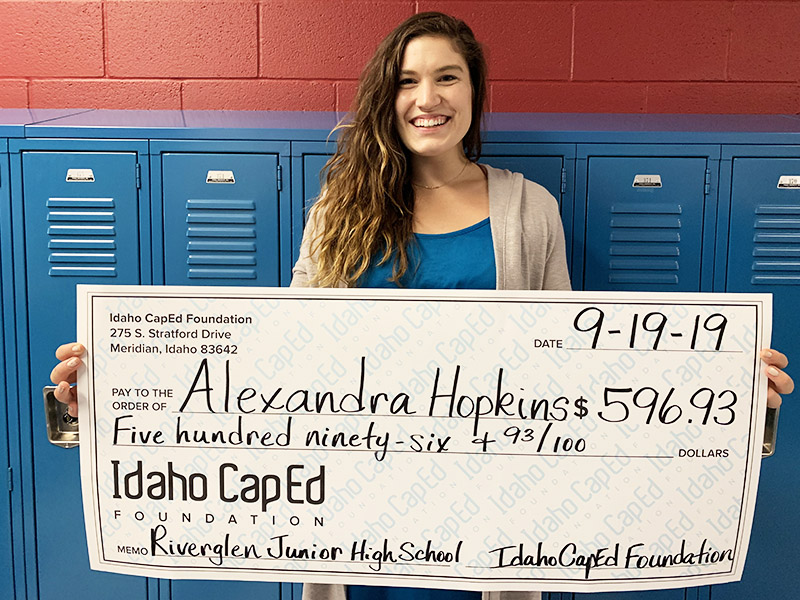 Grizzly Brew Cart
Alexandra Hopkins - Riverglen Junior High, Boise
$596.93
As a special education teacher, I am always looking for meaningful ways to teach occupational education. For the last two years, my principal has given my classroom the opportunity to run the concession stand after school to sell snacks during volleyball and basketball games. This real-world application of skills has been a huge success. Unfortunately, only four of my 17 students have the ability to stay after school and help with the concession stand as transportation is difficult for some of our families. This is where my project comes in. The Grizzly Brew Cart would bring real-world application to generalize skills previously learned while diversifying my occupational education curriculum. The Grizzly Brew Cart would be a business ran by my students in which they would be in charge of creating order forms, advertisements, and menus. By running The Grizzly Brew Cart, all of my students will have an opportunity to benefit by generalizing their math and social skills instruction to a practical application. All proceeds gained from sales will go back into the coffee cart to ensure project longevity. This project has the potential to grow and create meaningful opportunities for cross-curricular expansion. This project will not only develop the mathematical, social, organizational, and creative skills of my students with disabilities but will also allow opportunities for non-disabled peers to assist as peer mentors.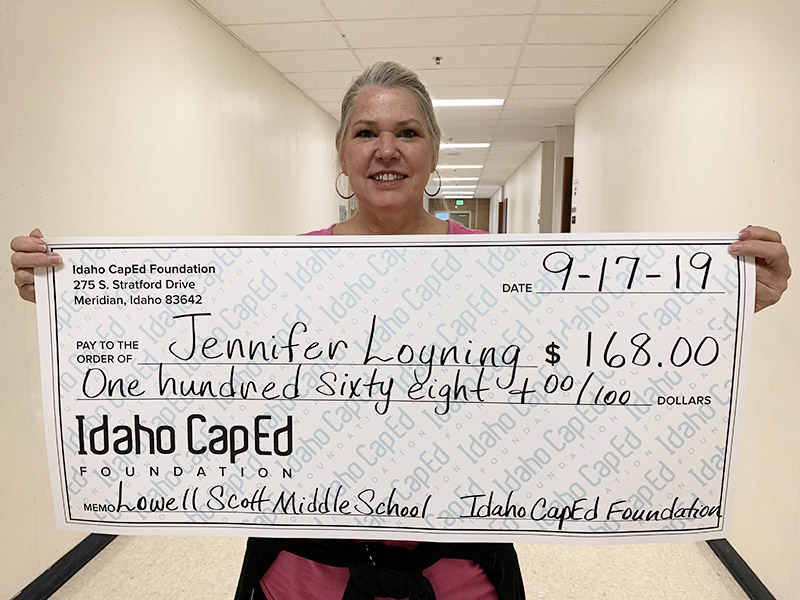 Community Service/Math
Jennifer Loyning - Lowell Scott Middle School, Boise
$168.00
I am a middle school Special Education teacher and will be teaching an extended resource math class this year. My students struggle with math and are unable to participate in the general education setting for math, so I would like to give them a positive experience with math and introduce them to the benefits of community service. I am looking forward to doing a project in my classroom where we make fleece blankets and give them to our local shelter. My students will have the opportunity to present the simple "no-sew" fleece blankets to the shelter upon completion. With this grant, I can purchase the micro fleece fabric needed to do this project. I would also love to afford my students a trip to the animal shelter to present their blankets.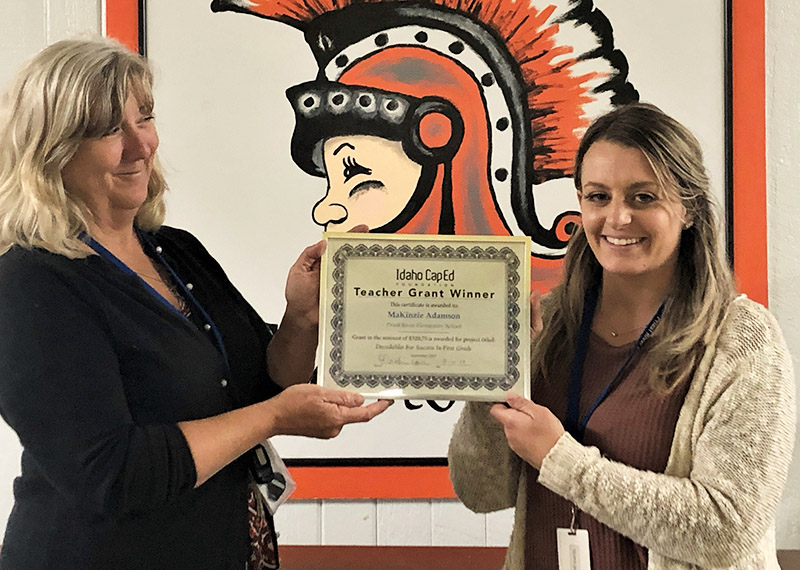 Decodables For Success In First Grade
MaKinzie Adamson - Priest River Elementary School, Priest River
$320.75
This project has been designed to give early readers decodable readers that every child can enjoy and learn to read with. This will be done by providing Learning A-Z subscriptions and Explode the Code books. By having these subscriptions our teachers can print off decodable material as needed. At our school, many children come into school not knowing much about books, print concepts, and lack reading skills. We live in a low income area where many students do not have the resources for success in reading at home. By funding the project and giving first grade decodable readers you are allowing younger grade level teachers at our school to provide the materials we need to help our students succeed and giving them the foundation for reading success. These materials will aid reading for 40+ children at the first grade level this year alone and many more early readers to come. These decodable readers will not only impact our students, but our school as well. They will also provide teachers the materials they need in order to better our students learning experiences in the classroom.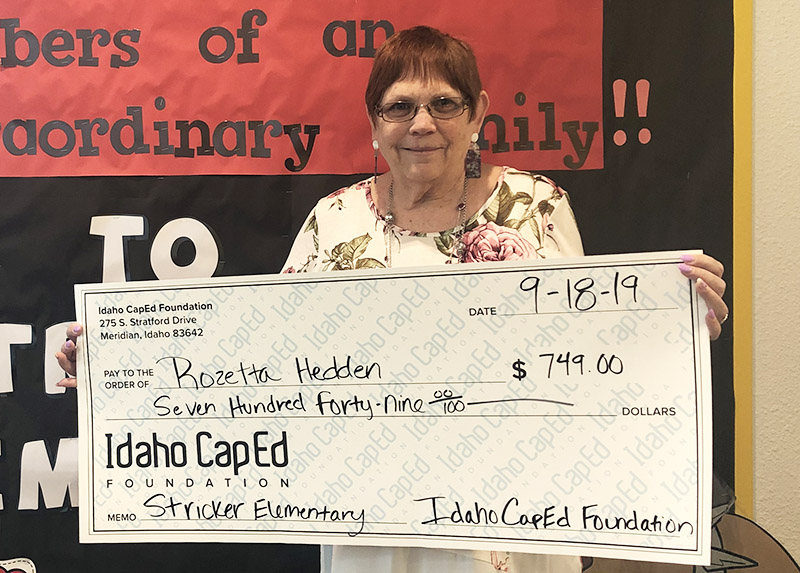 Mystery Science Supplemental Curriculum
Rozetta Hedden - Stricker Elementary School, Kimberly
$749.00
This grant will help us purchase the Mystery Science (mysteryscience.com) programs for our entire school. The expected outcome of buying this program is to allow teachers to have formulated science lessons with hands-on activities at their fingertips for use in their classrooms. Having used these activities in the past, I know that these are high interest and engaging lessons. They are easy to access and prep for as a teacher. They encourage discussion during the lesson and action during the activity on the part of the students. They are aligned with the NGSS standards with 3 or 4 units for each grade level that have numerous lessons in each unit.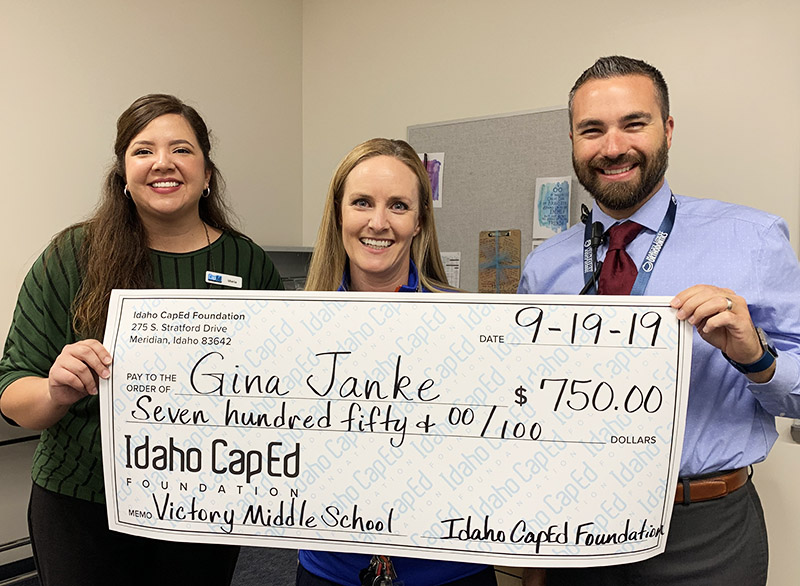 Student Leadership Team leads the path...
Gina Janke - Victory Middle School, Meridian
$750.00
Our students come eager to learn and simply can't get enough of learning how to be active in fun new ways. We have a health and wellness club that consists of over 20 student leaders that meet every day to create and implement unique ways for our school community to get more physically active. Our student leadership team runs a mileage club during lunch, puts on community fun runs, and creates physical activity challenges for our advisory classes throughout the year. In order for these activities to be successful and exciting, we need funding for equipment, prizes and incentives as well as our mileage club tracking program. By allowing opportunities for our students to be more physically active during school research shows an increase in learning readiness, a reduction in school wide behavior, a reduction in childhood obesity as well contributes to overall health throughout their lives. Encouraging healthy habits at a young age is our goal. Healthier students produce more successful adults that contribute to our society in positive ways.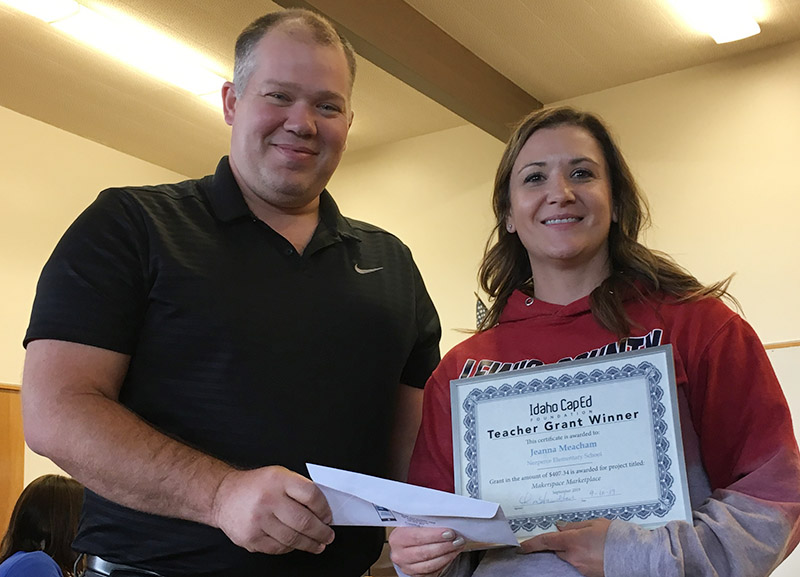 Makerspace Marketplace
Jeanna Meacham - Nezperce Elementary, Nezperce
$407.34
Our school strives to engage students in learning the Idaho State Standards while making it relatable and appealing to students. My goal with the funds from this grant would be to expand the economics unit for my students by creating a makerspace marketplace. Students would become designers and producers. They will create products during our makerspace time and sell them to our school's SmartMart store. Students will get paid for their products. Then they can use the money they earned and for participation in the classroom to spend at SmartMart where they will have become the consumer. Students will also learn more about supply and demand through this process as some items will sell faster than others. This grant would be used to buy 3D printing filament, LED lights, copper tape, batteries, clay, playdough, Cricut vinyl, water bottles, hot glue sticks, stretched canvas and canvas bags. The makerspace marketplace will also complement students learning about the purpose of banks and the benefit of savings. If we were awarded this grant it would greatly enhance student engagement while learning about lifelong skills.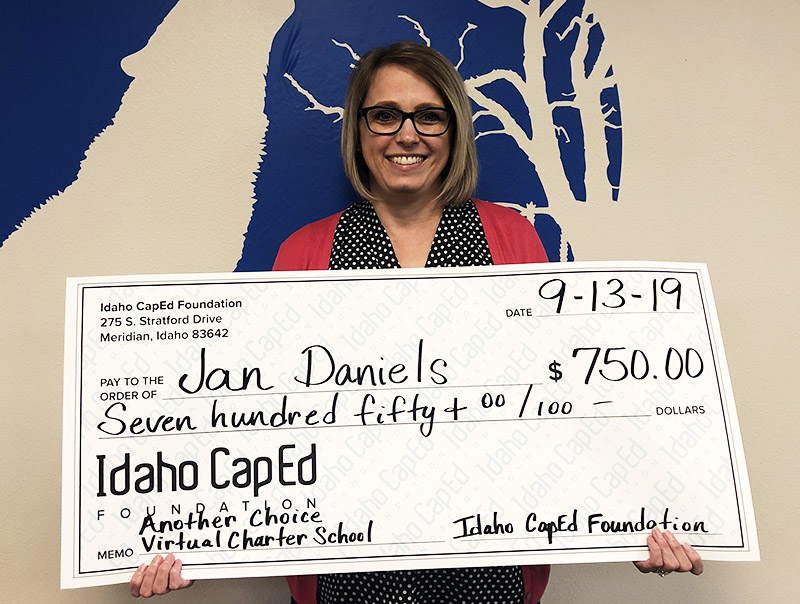 Growing Readers
Jan Daniels - Another Choice Virtual Charter School, Nampa
$750.00
As the new reading teacher for 3rd-6th graders, it is my goal to first engage my students as readers. Students need to learn and improve reading skills in order to be successful in all academic and life skills areas. Reading is the foundation for success in all areas. Students will be reading two books per quarter in different genre areas, while focusing on comprehension, vocabulary, foundational skills, and literary elements. I have selected books to engage students in reading while providing them a variety of books that will help to build these literary skills. Students will not improve reading skills without reading regularly, therefore, it is important that we provide them with a variety of digital and print reading resources, including books that will keep their interest as we encourage them to become readers and strengthen and improve skills. They will be doing some of their reading online for informational text, but I believe it is important to have a balance of actual print and digital text for the success of today's readers.